Waverley Toyota proudly sponsors:
Waverley Toyota believes in the importance of community involvement and supports a range of organisations, events and causes. The pursuit of perfection can take many forms, so we are proud to partner with organisations that share that same vision.
We Sponsor the following local community groups:
Chinese New Year and Lantern Festival
Waverley Toyota is again delighted be the proud Major Sponsor of the Glen Waverley Chinese New Year and Lantern Festival, a wonderful event full of colour, celebration and friendship. This festival is one of the most anticipated events in the City of Monash. It showcases the colour and grace of multiculturalism, and gives the opportunity to the wider community to celebrate the most important Chinese festival in the lunar calendar. We witnessed the sounds of the firecrackers chase away the monkey; and the drumming of the Lion and Dragon Dancers usher in the Year of the Rooster. Xin Nian Kuai Le
---
Monash Carols by Candlelight Concert
The magic of Christmas was captured under the stars on December 11th at Jells Park, where the community came together to enjoy the Monash Carols by Candlelight Concert. Waverley Toyota provided many activities under the huge Hexagon, such as Selfies with Santa, Elf Face Painting, CHR popcorn as well as the big announcement of the winner of the Disneyland trip for 4 onstage.
---
Annual Toyota Dream Car Art Contest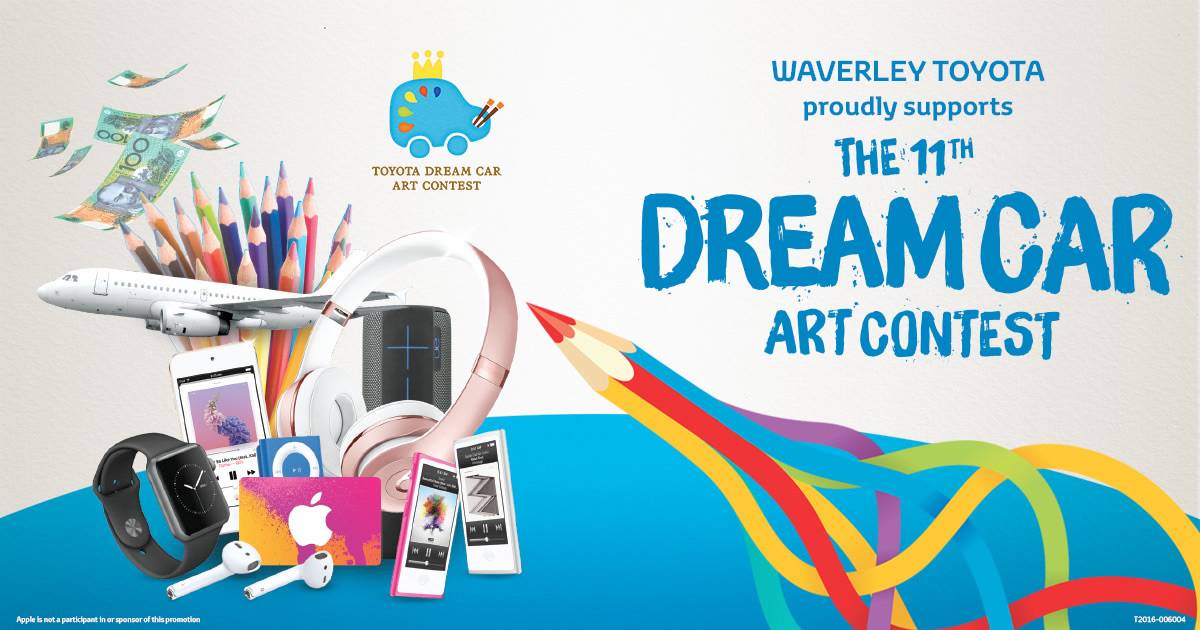 What would your Dream Car look like? Here's an opportunity for children up to 15 years old to draw their 'Dream Car' for a chance to WIN a $750 Apple Store Gift Card or a trip to Japan.
The Dream Car Art Contest is held globally by Toyota each year. Each country will hold their own contests with three winners from each age category: Under 8 years old; 8-12 years old; and 12-15 years old. These entries are then sent to Toyota Japan and judged in the 'World Contest'. So grab your paper, grab your pencils and start drawing your 'Dream Car', don't forget to download the Entry Form – this includes information on how to enter or visit Waverley Toyota.
---
The Chadstone Demons Disability Football Club
2016 sees Waverley Toyota form a brand new partnership with local football club, The Chadstone Demons Disability Football Club, an organization offering sport mainly for people with a disability.
Players involved enjoy an environment that promotes fitness, fun, friendship and a rare sense of belonging. Additionally this participation enhances life skills and develops self-esteem, confidence and improved health.
For further information please click here
---
Mazenod Old Collegians Football Club
Waverley Toyota are very committed to supporting The Mazenod Old Collegians Football Club, was founded in 1977 and played its first year of competitive football in 1978. In 2005 the club took steps in its development with the creation of teams within the Football Integration Development Association (FIDA) which provides a regular, competitive fixture of Australian Rules football for players with an intellectual disability.
For further information please click here
---
Glen Waverley Hawks
Waverley Toyota is a proud sponsor of the Glen Waverley Hawks Junior and Senior Football Clubs, who play out of Toyota Waverly Park. As part of this initiative, Waverley Toyota supports Glen Waverley Hawks clubs through sponsorship and other promotional activities. Funding goes to a variety of club requirements such as improving grounds, renovations of club rooms, training equipment, uniforms, medical supplies and improving the overall playing and training environment for the club.
For further information please click here
---
National Tree Day Celebrating its 20th year
National Tree Day is an initiative of the highly respected not-for-profit environmental foundation, Planet Ark. It was originally created to bring the Australian community's attention to the importance of planting native trees to protect and enhance our natural environment.
Waverley Toyota are proud to support Glenallen Specialist School during National Tree Day.
Glenallen Specialist School is the largest school for students with a physical disability and /or sever health impairments in the southern hemisphere and strives to be a world's best practice specialist school, providing innovation and excellence in teaching and learning for all students.
Waverley Toyota will continue their support with Glenallen Specialist School throughout the year with bi monthly gardening events ensuring a long and successful partnership and a real contribution to the health of their environment.
---